As you can see from the large hole in my post history, I've been a little busy for past couple of years. Of course, this is no excuse. I'm just as busy now, if not more so. But I'm going to put more effort into regularly updating this blog.
Code Club is one of the reasons for this extra pressure on my free time. About two years ago I set up a club in our local library. And last week I was asked to answer some questions for a Code Club blog post.
In addition to the Q&A I was also asked to provide some pictures. So last weekend I went around with my camera and captured some shots of the children at work. I used the Canva online design service to create a photo collage: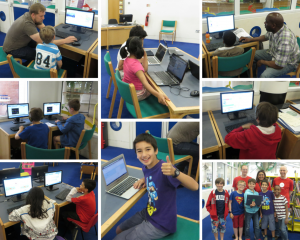 Getting these pictures did take significant effort, although the most laborious part was obtaining all of the permissions. I think the results were worth it.